Wednesday, April 25, 2012
Tuesday, April 10, 2012
Kate Bush Queen Of British Pop - YouTube
ploaded by
vibesinthesky
on
Jan 10, 2011
Ten minute 2009 documentary that does just what it says on the tin! Kate Bush (born Catherine Bush 30 July 1958) is an English singer-songwriter, musician and record producer. Her eclectic musical style and idiosyncratic vocal style have made her one of the United Kingdom's most successful solo female performers of the past 30 years. Bush was signed by EMI at the age of 16 after being recommended by Pink Floyd's David Gilmour. In 1978, at age 19, she topped the UK Singles Chart for four weeks with her debut single "Wuthering Heights", becoming the first woman to have a UK number-one with a self-written song.

After her 1979 tour — the only concert tour of her career — Kate released the 1980 album Never for Ever, which made her the first British solo female artist to top the UK album charts and the first female artist ever to enter the album chart at No. 1. In 1987, she won a BRIT Award for Best British Female Solo Artist. In 2002, Kate's songwriting ability was recognised with an Ivor Novello Award for Outstanding Contribution to British Music. In 2005, she released Aerial, her first album in 12 years.
Category:




Sunday, April 1, 2012
Neuroscience and philosophy must work together | Barry Smith | Comment is free | The Guardian
Neuroscience and philosophy must work together
Theories of consciousness are challenged by recent research into the impact of brain function on the sense of self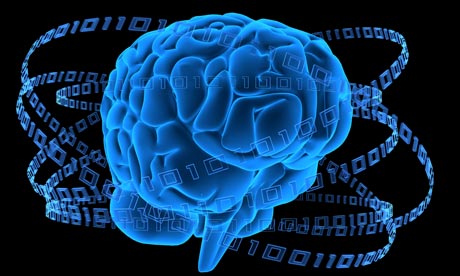 The brain is made up of a series of interlocking systems. Photograph: Sebastian Kaulitzki / Alamy/Alamy
Human beings are part of nature. They are made of flesh and blood, brain and bone; but for much of the time they are also conscious. The puzzling thing is how the intricate sequences of nerve cells and tissue that make up a person's brain and body can generate the special subjective feel of conscious experience.
Consciousness creates, in each of us, an inner life where we think and feel; a realm where we experience the sights, sounds, feels, tastes and smells that inform us of the world around us.
To many philosophers the central problem of consciousness is, how can the facts of conscious mental life be part of the world of facts described by the natural sciences?
The 17th-century philosopher,
René Descartes
, thought they couldn't and argued that, in addition to our physical makeup, creatures like us had a non-material mind, or soul, in which thinking took place. For Descartes, only humans were subjects of experience. Animals were mere mechanisms. When they squealed with what we mistakenly took to be pain, it was just air escaping from their lungs.
Today we take other animals to be conscious; although we are not sure how far down the phylogenetic scale consciousness extends. Most problematically of all, if consciousness was immaterial, how could the immaterial soul move the physical body, or feel pain in response to physical injury?
The difficulty of understanding such material-immaterial interactions is the reason most contemporary philosophers reject Descartes' mind-body dualism. Surely it is the brain that is responsible for controlling the body, so it must be the brain that gives rise to consciousness and decision-making. So how does consciousness arise in the brain? Science still has no answer.
To a large extent consciousness has been dethroned from the central role it used to occupy in the study of our mental lives.
Freud
persuaded us that there is more going on mentally than we are consciously aware of, and that sometimes others can know more about what we are thinking and feeling than we do. Now we are also learning more and more from
neuroscience
and neurobiology about how much of what we do is the result of unconscious processes and mechanisms. And we are discovering that there are different levels of consciousness, different kinds of awareness, and that much of our thinking and decision-making can go on without it. So a more pressing question might be, what is consciousness for? Is it just a mere mental accompaniment to what is going to happen anyway? In that case it may be our sense of self and self-control that is most in need of revision.
It's also worth remembering that the only convincing example of consciousness we have is our own. Are the people around me really conscious in the way I am, or could they be zombies who act like humans?
Conscious awareness is bound up with our sense of self, but our sense of self is bound up with awareness of the body. The sense of agency and ownership of our limbs is very much part of who we are and how we operate in the world. But it can also go missing after brain injury. In rare cases of brain lesion people can experience sensations in their own hand but not think the hand or the experience belongs to them.
Wittgenstein once said that no one could have an experience and wonder whose experience it was. An experience I feel has to be my experience and it is conceptually impossible to think otherwise. However, when something goes awry in the injured brain the conceptually impossible becomes possible for certain patients. So the nature of consciousness and how we experience it depends on the proper functioning of the brain. We can be aware in moving our bodies that it is our own body we are moving, and we may still have a feeling of being the agent of that movement, but it may not be our conscious decisions that initiate those movements.
The sense of ourselves as consciously deciding everything we do is surely an illusion: but a persistent one. Equally, the idea that consciousness is unified and must be that way comes under increasing pressure in contemporary neuroscience. There are levels of consciousness and perhaps splits in conscious awareness. Can we have consciousness and lack awareness of it? Do we always know what our experience is like, and is experience always as it seems? Much recent experimental evidence from neuroscience suggests that this may not be the case. So it is a fruitful time for philosophers and neuroscientists to work together, to revise previous models and provide new accounts of how we perceive things and why our experience patterns in the way it does.
There may be no single answer to what consciousness is, but we may still be able to find ways to explain what is going on in the brain. This would help resolve why our conscious experience takes the shape and form it does, and elucidate what happens to consciousness when one of the interacting systems that make possible the self-knowing mind breaks down. These phenomena provide vital clues about the
neural correlates of consciousness
and are a step on the road to understanding why things work as they do.
Getting at the elusive nature of our own experience and freeing ourselves from faulty interpretations is a tricky business. Many disciplines are needed if we are to make a real breakthrough.
• Professor Barry Smith will take part in a panel discussion, organised by the Guardian, on the nature of consciousness – and whether science will ever be able to explain it – at the
Royal Institution
in London on Wednesday at 7pm
• Follow Comment is free on Twitter @commentisfree
Science Weekly podcast: Can science ever explain consciousness? | Science | guardian.co.uk
Can science ever explain consciousness?
Three leading researchers and thinkers on consciousness discuss the emerging scientific understanding of this mysterious human faculty
Australian philosopher David Chalmers called it
'the hard problem'
. For a long time the exclusive preserve of philosophy, understanding the conscious mind is fast becoming an important field of research in neuroscience. This week's edition of Science Weekly is dedicated to the endeavour.
The
annual meeting
of the Association for the Scientific Study of Consciousness comes to the UK in the summer, and on 7 March at the Royal Institution in London, Science Weekly presenter Alok Jha will host a debate entitled
Consciousness: The Hard Problem?
To discuss this slippery subject ahead of the debate Alok brought the three leading researchers and thinkers who will be participating into the Science Weekly studio:
Dr Anil Seth
, co-director of the Sackler Centre for Consciousness Science at Sussex University;
Professor Chris Frith
, professor emeritus at the Wellcome Trust Centre for Neuroimaging at University College London; and
Professor Barry Smith
, director of the Institute of Philosophy at the School of Advanced Study, University of London.
Subscribe for free via iTunes to ensure every episode gets delivered. (Here is the non-iTunes URL feed).
Follow the podcast on our Science Weekly Twitter feed and receive updates on all breaking science news stories from Guardian Science.
I just ordered this book from the library and I'm greatly looking forward too reading it.
The Neurocritic
An excerpt from
Simon-Baron Cohen
's new book,
Zero Degrees of Empathy: a New Theory of Human Cruelty
, appeared as
The science of empathy
in the Guardian. Overall, the writing revealed him to be unempathetic in some respects, particularly with regard to people with
borderline personality disorder
1
(BPD):
Unempathic acts are simply the tail end of a bell curve, found in every population on the planet. If we want to replace the term "evil" with the term "empathy", we have to understand empathy closely. The key idea is that we all lie somewhere on an empathy spectrum. People said to be "evil" or cruel are simply at one extreme of the empathy spectrum. We can all be lined up along this spectrum of individual differences, based on how much empathy we have. At one end of this spectrum we find "zero degrees of empathy".. . .Zero degrees of empathy does not strike at random in the population.

There are at least three well-defined routes to getting to this end-point: borderline, psychopathic, and borderline personality disorders.

I group these as zero-negative because they have nothing positive to recommend them. They are unequivocally bad for the sufferer and for those around them. Of course these are not all the sub-types that exist. Indeed, alcohol, fatigue and depression are just a few examples of states that can temporarily reduce one's empathy, and schizophrenia is another example of a medical condition that can reduce one's empathy.
This comes after an introduction that recounts a childhood memory: when his father told him that the Nazis turned Jewish people into lampshades and soap. So people with BPD are "evil", "zero-negative" and have "zero degrees of empathy" (similar to the Nazis). This is quite a stunning characterization, in fact one that is not borne out by the literature. For example, one study showed that individuals with BPD are actually
better
than controls on a test of empathy designed by Baron-Cohen himself (
Fertuck et al., 2009
).
2
That would be the
Reading the Mind in the Eyes Test
(RMET), "a measure of the capacity to discriminate the mental state of others from expressions in the eye region of the face." The study showed that:
The BPD group performed significantly better than the HC group on the RMET, particularly for the Total Score and Neutral emotional valences. Effect sizes were in the large range for the Total Score and for Neutral RMET performance. The results could not be accounted for by demographics, co-occurring Axis I or II conditions, medication status, abuse history, or emotional state. However, depression severity partially mediated the relationship between RMET and BPD status.
p between RMET and BPD status.The authors concluded that this enhancement of facial emotion recognition abilities (or "enhanced sensitivity to the mental states of others") is what can get BPD persons in trouble socially. Consistent with this finding, another study found a double dissociation between two different types of empathy in BPD (
Harari et al., 2010
). Emotional empathy was slightly enhanced, whereas cognitive empathy was significantly impaired relative to controls.
Fig. 1 (Preißler et al., 2010). (A)
a significant group-by-type (interaction) effect [
F
(1,40) = 6.375,
P
= 0.016]. The HC group had significantly higher scores
(*)
in the cognitive empathy scale, whereas there was an opposite trend is observed in the BPD group.
Cognitive empathy, or the ability to take another person's perspective, is closely related to (or even synonymous with)
theory of mind
. On the other hand, emotional or affective empathy is "emotional contagion" - the ability to mirror an emotional response observed in another person and to experience it vicariously. The literature on emotional empathy in BPD isn't entirely consistent, however. Although
Preißler and colleagues (2010)
reported preserved (but not enhanced) performance on the RMET, they observed an impairment on the "Movie for the Assessment of Social Cognition" (MASC) in the BPD participants.
In his book, Baron-Cohen also provides a case study from another population with "zero degrees of empathy" -- the
psychopath
:
Paul's career of criminal behaviour had begun when he was as young as 13, when he had set fire to the school gym and sat in a tree across a field to watch it burn. He was expelled and from there went to three more schools, each time being expelled for aggression – starting fights in the playground, attacking a teacher who asked him to be quiet and even jumping on someone's head when they wouldn't let him join the football team.Paul

[currently in jail for murder]

is clearly not the kind of guy you want to live near. Many would not hesitate to describe him as "evil". He is a psychopath – a Type P – though to give him the proper diagnostic label, he has antisocial personality disorder. He earns this label because he shows "a pervasive pattern of disregard for and violation of the rights of others that begins in childhood or adolescence, and continues into adulthood".
This sounds similar to the description of Cpl. Jeremy Morlock in
The Kill Team
, a recent article in
Rolling Stone
on the American soldiers in Afghanistan who killed innocent civilians and mutilated their corpses.
[

NOTE:

I am not linking directly to this article because it contains very graphic and disturbing photographs. You'll find them within the online magazine if you want to see them.]
According to
Rolling Stone
:
Before the military found itself short of troops in Afghanistan and Iraq, Morlock was the kind of bad-news kid who the Army might have passed on. He grew up not far from Sarah Palin in Wasilla, Alaska; his sister hung out with Bristol, and Morlock played hockey against Track. Back in those days, it seemed like he was constantly in trouble: getting drunk and into fights, driving without a license, leaving the scene of a serious car accident.
But it gets worse and escalates, just like with Paul: he committed the serious crime of spousal abuse only one month before being deployed. Unfortunately, he was only charged with "disorderly conduct" and then sent off to Afghanistan anyway:
Even after he joined the Army, Morlock continued to get into trouble. In 2009, a month before he deployed to Afghanistan, he was charged with disorderly conduct after burning his wife with a cigarette. After he arrived in Afghanistan, he did any drug he could get his hands on: opium, hash, Ambien, amitriptyline, flexeril, phenergan, codeine, trazodone.
So it seems that his antisocial character was well-established before he arrived in Afghanistan.
3
Come on, Professor Baron-Cohen. Surely it's a stretch to compare Nazis and callous murderers without a conscience to affectively unstable, impulsive, and interpersonally difficult individuals who may be self-destructive or manipulative?
Clearly Type Ps differ in important ways to Type Bs, but they share the core feature of being zero-negative: their zero degrees of empathy can result in them doing cruel things to others.
Inferring a complete lack of empathy in Marilyn Monroe (whom he diagnoses with
borderline personality disorder
instead of
bipolar disorder
) and comparing her to someone who commits war crimes is preposterous.
Footnotes
1
Roth and Fonagy (1996) defined BPD thusly:
The essential feature of this disorder is a pervasive pattern of instability of self-image, interpersonal relationships and mood. The person's sense of identity is profoundly uncertain. Interpersonal relationships are unstable and intense, fluctuating between the extremes of idealisation and devaluation. There is often a terror of being alone, with great efforts made to avoid real or imagined abandonment. Affect is extremely unstable, with marked shifts from baseline mood to depression and anxiety usually lasting a few hours. Inappropriate anger and impulsive behaviour are common, and often this behaviour is self-harming. Suicidal threats and self-mutilation are common in more severe forms of this disorder.
2
This fact was noted by
@autismcrisis
, who said:
People with enhanced empathy per Simon Baron-Cohen's test http://j.mp/eOOwph are denounced by SBC for having no empathy http://j.mp/gUNgbj
3
Glancing at a few of the comments on the article, among the most appalled are other soldiers.
Further Reading
Additional posts about
Borderline Personality Disorder
by The Neurocritic.Dinah at Shrink Rap goes
Over The Border Line
to explain her dislike for the label.
References
Fertuck, E., Jekal, A., Song, I., Wyman, B., Morris, M., Wilson, S., Brodsky, B., & Stanley, B. (2009). Enhanced 'Reading the Mind in the Eyes' in borderline personality disorder compared to healthy controls.

Psychological Medicine, 39

(12) DOI: 10.1017/S003329170900600X
Harari, H., Shamay-Tsoory, S., Ravid, M., & Levkovitz, Y. (2010). Double dissociation between cognitive and affective empathy in borderline personality disorder

Psychiatry Research, 175

(3), 277-279 DOI: 10.1016/j.psychres.2009.03.002
Preißler S, Dziobek I, Ritter K, Heekeren HR, Roepke S. (2010).
Social Cognition in Borderline Personality Disorder: Evidence for Disturbed Recognition of the Emotions, Thoughts, and Intentions of others
.
Front Behav Neurosci.
4:182.
Roth A, Fonagy P. (1996).
What Works for Whom? A Critical Review of Psychotherapy
Research
. London and New York: Guilford.